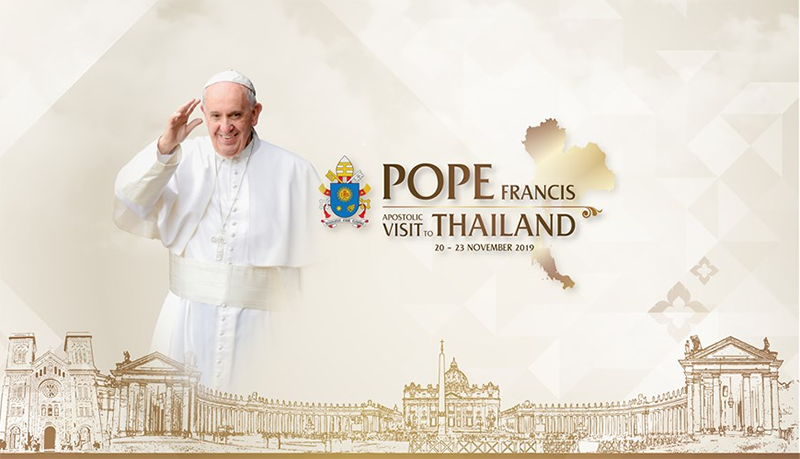 It is now official, Pope Francis will visit Thailand from November 20 to 23, as announced on Friday by the Apostolic Nuncio of the Holy See during a press conference.
Archbishop and Apostolic Nuncio Paul Tschang In-Nam made this statement in English at 2pm sharp, while Cardinal Francis Xavier Kriengsak Kovitvanit did the same in Thai.
« It is my great honor and pleasure to make the following announcement. At the invitation of the Royal Thai Government and the Bishops of Thailand, His Holiness Pope Francis will make the Apostolic Visit to Thailand on November 20 to 23, 2019. »
This official statement comes after several weeks of speculation.
The Pope will lead two public masses during his visit, one for Thai Catholics and the other for the young Thai Catholics, the press release states. The detailed timetable will be announced at a later date.
According to Bishop Wissanu Thanya-anan, Deputy General Secretary of the Thai Catholic Bishops' Conference, the celebrations could take place at the National Stadium.
« We want to reach Gen X, Gen Y, and other young people, » Wissanu said. That's why we'll have a dedicated mass for youth. »
Sister Bangon Mathurotsuwan, 51, from the Congregation of the Sisters of the Sacred Heart of Jesus in Bangkok, said: « There are very few Catholics in Thailand, only about 300,000, but he still sees us as important. I'm so excited, and I'll be waiting for him. »
Sister Bangon added that this visit will also be significant, as it marks the 350th anniversary of the foundation of the « Mission de Siam », which aims to supervise Catholic missions in the Kingdom.
First visit of a Pope to Thailand since 1984
The last visit of a Pope to Thailand was in 1984, with Pope John Paul II. This year, after his visit to Thailand, Pope Francis will visit Tokyo, Japan, from November 23 to 27.
« It's true that there is a small number of Catholics in Thailand, but there have been papal visits to countries with an even smaller population, such as Bosnia and Herzogovina or to Muslim countries, » said Bishop Wissanu, quoted by Khaosod English.
Bishop Wissanu reminded that in February, Pope Francis visited the United Arab Emirates, where the number of Catholics is estimated to be between 4,000 and 5,000.
« The numbers aren't important when a father is visiting his children, » commented Chainarong Monthienvichienchai, spokesman for the Holy See.
He said that this visit was a « big joy » for Thai Catholics and that he was convinced that they would come in « great numbers ».
« We prayed he would visit our country when he came to visit a nearby country, Myanmar. We are next door to each other, but he has a very tight schedule, so he couldn't make a stopover, » added Mr. Chainarong, referring to Pope Francis' visit in November 2017.
With a total of four days, this stay of the Supreme Pontiff in the Kingdom will be twice as long as the one of Pope John Paul II.
Information about this visit will be available through the official «Pope Visit Thailand» website as well as on Facebook, Twitter, YouTube, Instagram and Line social networks.