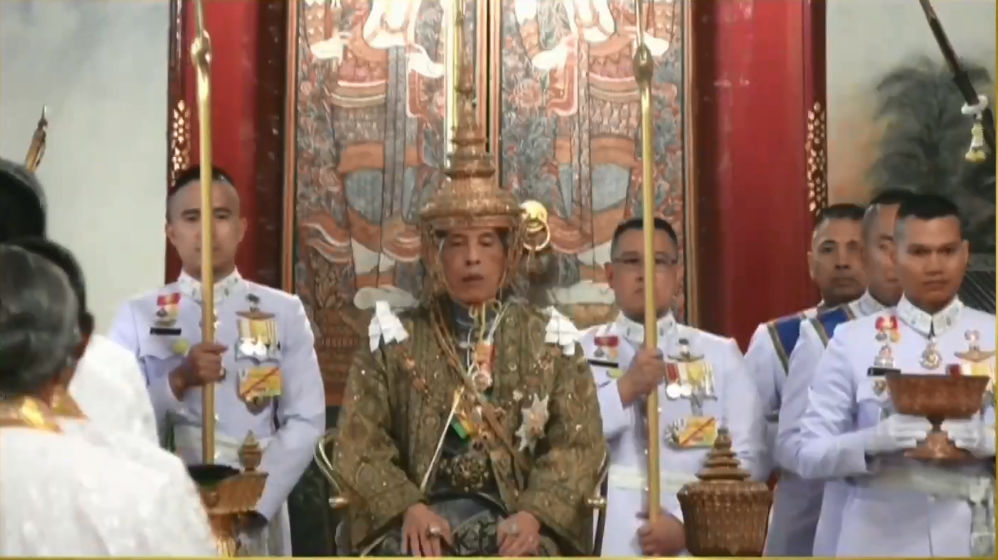 King Maha Vajiralongkorn of Thailand was officially crowned on Saturday, May 4, after receiving the Golden Crown, a strong symbol of a coronation that takes place over three days, two years after his accession to the throne.
The 66-year-old monarch, dressed in a ceremonial uniform, received the 7.3 kg Victory Crown, which he placed on his head before giving his first Royal Order.
« I shall reign in righteousness for the benefits of the kingdom and the people forever, » he said.
Traditionally pronounced after the coronation of a King, the first Royal Order aims to set the foundations of his reign. This Royal Order was close to the one of his father 69 years ago.
The King was joined by the new Queen Suthida after the announcement three days before the crowning of their marriage.
King Maha Vajiralongkorn is the tenth monarch of the Chakri dynasty, who has ruled Thailand since 1782.
He ascended the throne more than two years ago, after the death of his beloved father. However, a long period of mourning elapsed before the date of his coronation was set.
Saturday began with a ceremony during which the King dressed in a white robe anointed himself with sacred water from all over Thailand, in a temple located within the Grand Palace.
Cannon salutes marked this moment as horns and trumpets were sounded and Buddhist monks chanted.
The key rituals of the three-day coronation began at the auspicious time of 10:09 a. m.
Hindu Brahmins also attended this syncretic ceremony, which symbolizes Rama X's transition from a human figure to a divine figure.
For most Thais, this coronation is the first – the previous one dating back to 1950 when Bhumibol Adulyadej, father of Maha Vajiralongkorn, was crowned.
On Sunday, a 7-kilometre long Royal Procession will take place, in which 343 men will participate, some of whom by carrying the King through the historic district of Bangkok on a richly decorated palanquin, allowing the Thais to pay homage to their new monarch.
On Monday, the King will greet the crowd from the balcony of the Grand Palace in the late afternoon and then receive the members of the diplomatic missions.